Prestained Protein Marker (Triple color, EDTA free, 10-250 kDa) - 2x 250 uL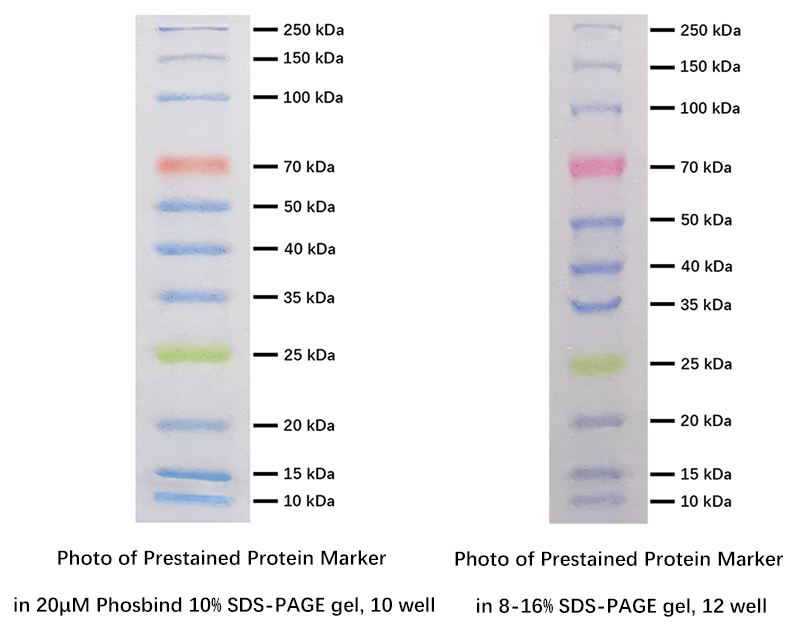 Prestained Protein Marker (Triple color, EDTA free, 10-250 kDa) - 2x 250 uL
The Prestained Protein Marker (Triple color, EDTA free, 10-250 kDa) is a prestained mixture of ten recombinant proteins ranging from 10 kDa to 250 kDa. Three different chromophores are bound to the proteins, 9 bands with blue, one red band at 70 kDa and one green band at 25 kDa. The Prestained Protein Marker is designed for observing protein separation during SDS-PAGE electrophoresis, verification of western transfer efficiency on membranes, and identifying the size of proteins. It can also be used in fluorescent imaging of membranes.
Prestained Protein Marker with increased brightness provides robust visualization for western blotting workflow, identifying target proteins on the gel or membrane, monitoring gel electrophoresis and confirming transfer quality.
The buffer of the marker does not contain EDTA which means it can be used in Phosbind SDS-PAGE electrophoresis (Cat. No. F4002)
The recommended loading volume for 1mm mini-gel is 3-5 μl. Larger size gels require more volume.