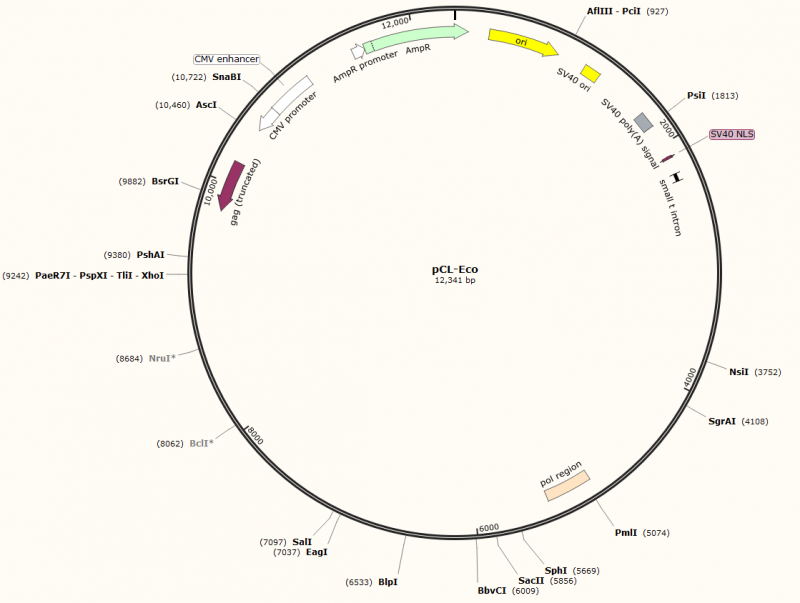 pCL- Eco Plasmid
PVT2203       2ug
pCL- Eco Plasmid Information
Promoter: CMV
Replicator: pUC ori, SV40 ori
Terminator: SV40 poly (A) signal
Plasmid classification: virus series, retrovirus packaging vector map
Plasmid size: 12341bp
Plasmid label: gag-pol
Prokaryotic resistance: Amp
Cloned strain: Stbl3
Culture conditions: 37 ℃, aerobic LB
Expression host: mammalian cells
Induction mode: no induction, instantaneous expression
5'sequencing primers: CMV-F:CGCAAATGGGCGGTAGGCGTG
3'sequencing primers: primers designed according to sequence
pCL- Eco Plasmid Description
pCL- Eco Plasmid packaging vector is a part of the RetroMax expression system and has been designed to maximize recombinant-retrovirus titers in a simple, efficient, and flexible experimental system. By introducing a retroviral vector into a cell expressing retroviral proteins, retroviral particles (virions) are shed into the culture medium at the rate of about 1 infectious particle/cell/day. Retrovirus tropism is determined at 3 levels. The first is simply a function of viral envelope protein, gp70. The envelope determines which cells the virus will enter. gp70 comes in three different flavors for gene therapy. Retroviruses obtained by cotransfection with pCL-Eco vector will infect mouse and rat cells, but not human cells.
pCL- Eco Plasmid Sequence
LOCUS       Exported               12341 bp ds-DNA     circular SYN 06-SEP-2016DEFINITION  synthetic circular DNAACCESSION   .VERSION     .KEYWORDS    Untitled 10SOURCE      synthetic DNA construct  ORGANISM  synthetic DNA constructREFERENCE   1  (bases 1 to 12341)  AUTHORS   .  TITLE     Direct Submission  JOURNAL   Exported Tuesday, September 6, 2016 from SnapGene Viewer 3.1.4             FEATURES             Location/Qualifiers     source          1..12341                     /organism="synthetic DNA construct"                     /mol_type="other DNA"     rep_origin      283..871                     /direction=RIGHT                     /note="ori"                     /note="high-copy-number ColE1/pMB1/pBR322/pUC origin of                      replication"     rep_origin      1107..1241                     /note="SV40 ori"                     /note="SV40 origin of replication"     polyA_signal    1699..1833                     /note="SV40 poly(A) signal"                     /note="SV40 polyadenylation signal"     CDS             complement(2105..2125)                     /codon_start=1                     /product="nuclear localization signal of SV40 large T                      antigen"                     /note="SV40 NLS"                     /translation="PKKKRKV"     intron          2255..2320                     /note="small t intron"                     /note="simian virus 40 (SV40) small t antigen intron"     misc_feature    5033..5407                     /note="pol region"                     /note="Moloney murine leukemia virus (MMLV) pol region                      containing the splice acceptor site"     CDS             complement(9767..10183)                     /note="gag (truncated)"                     /note="truncated Moloney murine leukemia virus (MMLV) gag                      gene lacking the start codon"     promoter        complement(10495..10698)                     /note="CMV promoter"                     /note="human cytomegalovirus (CMV) immediate early                      promoter"     enhancer        10699..11078                     /note="CMV enhancer"                     /note="human cytomegalovirus immediate early enhancer"     promoter        11488..11592                     /gene="bla"                     /note="AmpR promoter"     CDS             11593..112                     /codon_start=1                     /gene="bla"                     /product="beta-lactamase"                     /note="AmpR"                     /note="confers resistance to ampicillin, carbenicillin, and                     related antibiotics"                     /translation="MSIQHFRVALIPFFAAFCLPVFAHPETLVKVKDAEDQLGARVGYI                     ELDLNSGKILESFRPEERFPMMSTFKVLLCGAVLSRIDAGQEQLGRRIHYSQNDLVEYS                     PVTEKHLTDGMTVRELCSAAITMSDNTAANLLLTTIGGPKELTAFLHNMGDHVTRLDRW                     EPELNEAIPNDERDTTMPAAMATTLRKLLTGELLTLASRQQLIDWMEADKVAGPLLRSA                     LPAGWFIADKSGAGERGSRGIIAALGPDGKPSRIVVIYTTGSQATMDERNRQIAEIGAS                     LIKHW"ORIGIN        1 tggtaagccc tcccgtatcg tagttatcta cacgacgggg agtcaggcaa ctatggatga       61 acgaaataga cagatcgctg agataggtgc ctcactgatt aagcattggt aactgtcaga      121 ccaagtttac tcatatatac tttagattga tttaaaactt catttttaat ttaaaaggat      181 ctaggtgaag atcctttttg ataatctcat gaccaaaatc ccttaacgtg agttttcgtt      241 ccactgagcg tcagaccccg tagaaaagat caaaggatct tcttgagatc ctttttttct      301 gcgcgtaatc tgctgcttgc aaacaaaaaa accaccgcta ccagcggtgg tttgtttgcc      361 ggatcaagag ctaccaactc tttttccgaa ggtaactggc ttcagcagag cgcagatacc      421 aaatactgtc cttctagtgt agccgtagtt aggccaccac ttcaagaact ctgtagcacc      481 gcctacatac ctcgctctgc taatcctgtt accagtggct gctgccagtg gcgataagtc      541 gtgtcttacc gggttggact caagacgata gttaccggat aaggcgcagc ggtcgggctg      601 aacggggggt tcgtgcacac agcccagctt ggagcgaacg acctacaccg aactgagata      661 cctacagcgt gagctatgag aaagcgccac gcttcccgaa gggagaaagg cggacaggta      721 tccggtaagc ggcagggtcg gaacaggaga gcgcacgagg gagcttccag ggggaaacgc      781 ctggtatctt tatagtcctg tcgggtttcg ccacctctga cttgagcgtc gatttttgtg      841 atgctcgtca ggggggcgga gcctatggaa aaacgccagc aacgcggcct ttttacggtt      901 cctggccttt tgctggcctt ttgctcacat gttctttcct gcgttatccc ctgattctgt      961 ggataaccgt attaccgcct ttgagtgagc tgataccgct cgccgcagcc gaacgaccga     1021 gcgcagcgag tcagtgagcg aggaagcgga agagcgccca atacgcaaac cgcctctccc     1081 cgcgcgttgg ccgattcatt aatgcagcct ccaaaaaagc ctcctcacta cttctggaat     1141 agctcagagg ccgaggcggc ctcggcctct gcataaataa aaaaaattag tcagccatgg     1201 ggcggagaat gggcggaact gggcggagtt aggggcggga tgggcggagt aagacccgca     1261 cccgttccca aactgcttat taaagggggt atggaggtgc tggaccttgt gacagggcca     1321 gacagtgtga cagaaataga agcagtcctg ttttgacaag ttgcctctgg aagcctctac     1381 aatgcctctc ttctttttct ccagagtaag cggaggccag gggcccccgg cctctgctta     1441 atactaaaaa aaacagctgt tgtcatagta atgattgggt ggaaacattc taggcctggg     1501 tggagaggct ttttgcttcc tcttgcaaaa ccacactgcc ctctggaggg cagttgccta     1561 gcaactaatt aaaagaggat gtcgcacggc cagctgcggt cagttagtca cttcctgctt     1621 aactgacttg acattttcta ttttaagagt cgggaggaaa attactgtgt tggaggccct     1681 ccgccatctt ctgaagctga tccagacatg ataagataca ttgatgagtt tggacaaacc     1741 acaactagaa tgcagtgaaa aaaatgcttt atttgtgaaa tttgtgatgc tattgcttta     1801 tttgtaacca ttataagctg caataaacaa gttaacaaca acaattgcat tcattttatg     1861 tttcaggttc agggggaggt gtgggaggtt ttttaaagca agtaaaacct ctacaaatgt     1921 ggtatggctg attatgatct ctagtcaagg cactatacat caaatatttt tccataattt     1981 tcttgtatag cagtgcagct ttttcctttg tggtgtaaat agcaaagcaa gcaagagttc     2041 tattactaaa cacagcatga ctcaaaaaac ttagcaattc tgaaggaaag tccttggggt     2101 cttctacctt tctcttcttt tttggaggag tagaatgttg agagtcagca gtagcctcat     2161 catcactaga tggcatttct tctgagcaaa acaggttttc ctcattaaag gcattccacc</.....// Caution:
1.  This product is FOR RESEARCH USE ONLY!
2.  The item is lyophilized form, Please take the powder plasmid by centrifugation at 5000rpm/min for 1min. Add 20μl ddH2O in to the tube of plasmid.